Leadership Shadow Program (LSP)
LSP (Leadership Shadow Program is a campaign to create career paths for Eduwis teachers. A career path gives the teacher a sense of direction, a way to assess career progress, and an opportunity to achieve career goals and milestones along the way.
Intern
Assistant Teacher
Junior Teacher
Senior Teacher
Shadow Principal
Principal
Eduwis Career Path
The campaign registration will be open bi-annual in March and August every year. For those that are interested to join this program must fill up the application form through Eduwis website. If you have any questions regarding LSP, please contact the team directly at eva@eduwis.edu.my.
Eligibility
Eduwis teacher (after employment confirmation) can apply to become shadow principal or nominate by principal/ franchisee.
Registration Period
March & August every year
Requirement of Shadow Principal
• Registered Eduwis teacher in Eduwis SIS system
• Pursuing or have Diploma in ECE
• Working at least 3 months in Eduwis centre
• At least one quarter of exceed performance
• Monthly teacher's training attendance >80%

Application
The application is open bi-annually. Eduwis' teacher must get consent from the principal/franchisee before submitting the online application form. Eduwis will contact the respective centre principal via phone call or email. If the application passes through the screening process, we will schedule a conference call or meet up with the Shadow Principal candidate for an interview session.
Process Flow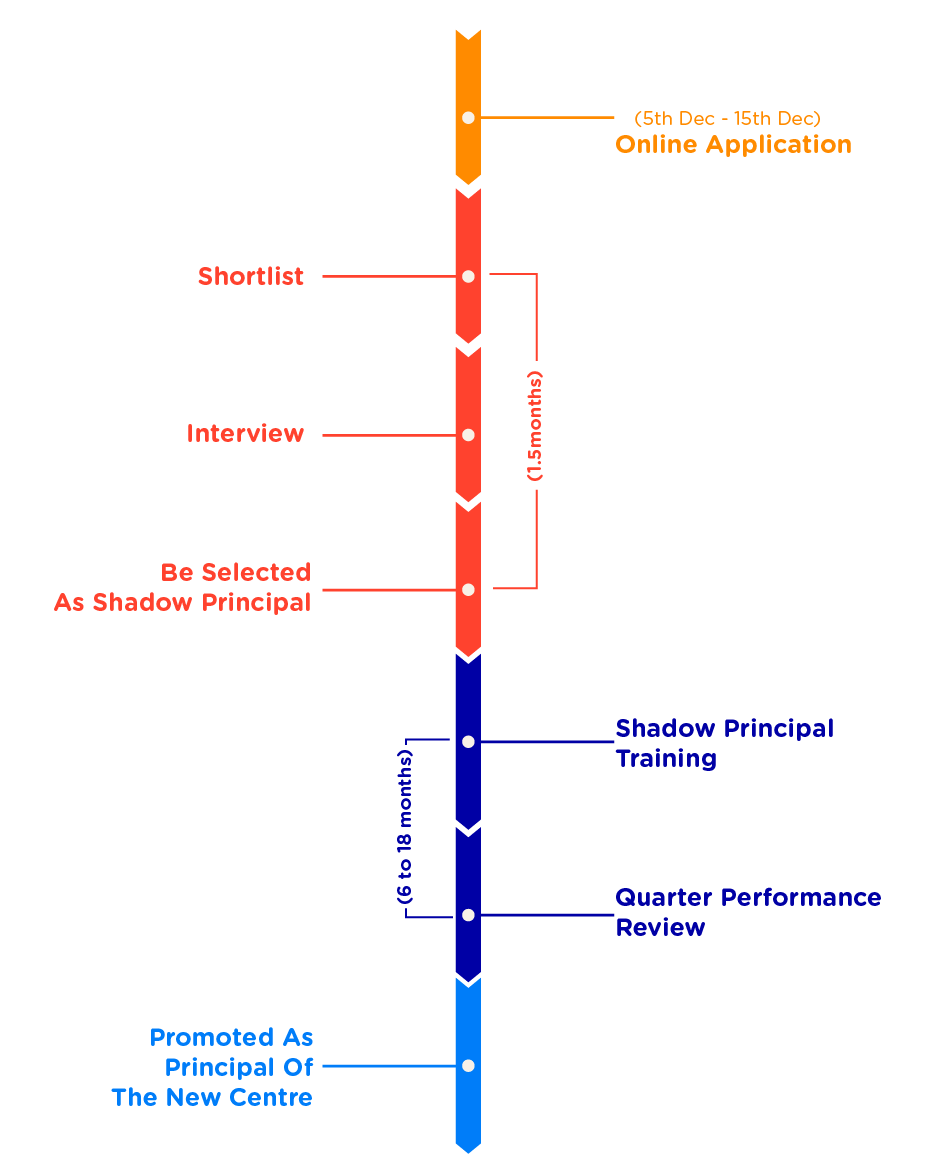 Benefits of Eduwis Leadership Shadow Program
• Eduwis Shadow Principal will be granted an equity voucher of RM5,000 on the new centre from Eduwis.
• Eduwis Shadow Principal will own at least 5% of shareholding in the company.
• Comprehensive guidance and quarterly progression plan provided for Eduwis Shadow Principal.
• Detailed career advancement planning for Eduwis teachers and principals.
• A clear Eduwis 10-year Retirement Plan provided for Eduwis Shadow Principal.
Can I join Eduwis Leadership Shadow Program if I'm not an Eduwis teacher?
Join any Eduwis centre as a teacher to start your Leadership Shadow Program journey!