Unveiling Eduwis Kindergarten as one of the Top 10 Preschools in Selangor
Early childhood education plays a pivotal role in laying the foundation for a child's lifelong learning journey and overall development. Eduwis, with its holistic program and approach, has rapidly expanded and now owns 85 centres across Malaysia, including 38 centres located in Selangor, making Eduwis the top 10 kindergarten in Selangor. Eduwis aims to provide accessible, high-quality education to children aged 2 to 6 years old.
Eduwis has garnered numerous awards and recognition since 1987. Eduwis has been dedicated to continuous improvement of our Eduwis Program such as achieving through extensive research and development efforts., Our team has undertaken extensive journeys to visit leading preschools worldwide, including those in Australia, Japan, the United Kingdom, Italy, the United States, Singapore, and Indonesia, to gain inspiration and insights from the best practices in early childhood education. Eduwis program draws significant influence from the Early Years Learning Framework (EYLF) of the Australian education system, while incorporating elements of Malaysia's unique context. This ensures that our young learners not only benefit from a globally-informed approach but also develop the skills necessary to seamlessly transition into the Malaysian primary school system.
Well-trained teachers are important in providing an enriching and effective educational experience for children. They bring expertise, dedication, and a passion for teaching that shapes the future of young learners, preparing them for success in both their academic and personal lives. To ensure that our teachers are well-trained, we provide monthly teacher training to support their professional development and growth. The monthly teacher training sessions will take place both in person and via Zoom. We encourage all 400 teachers to actively share their ideas and knowledge, fostering collaborative growth and strength as a collective unit. Consequently, our teachers possess the capability to carry out Eduwis program that promote exploration, critical thinking, and creativity. Additionally, they undergo training to effectively handle emergencies and maintain a safe learning environment, free from potential hazards.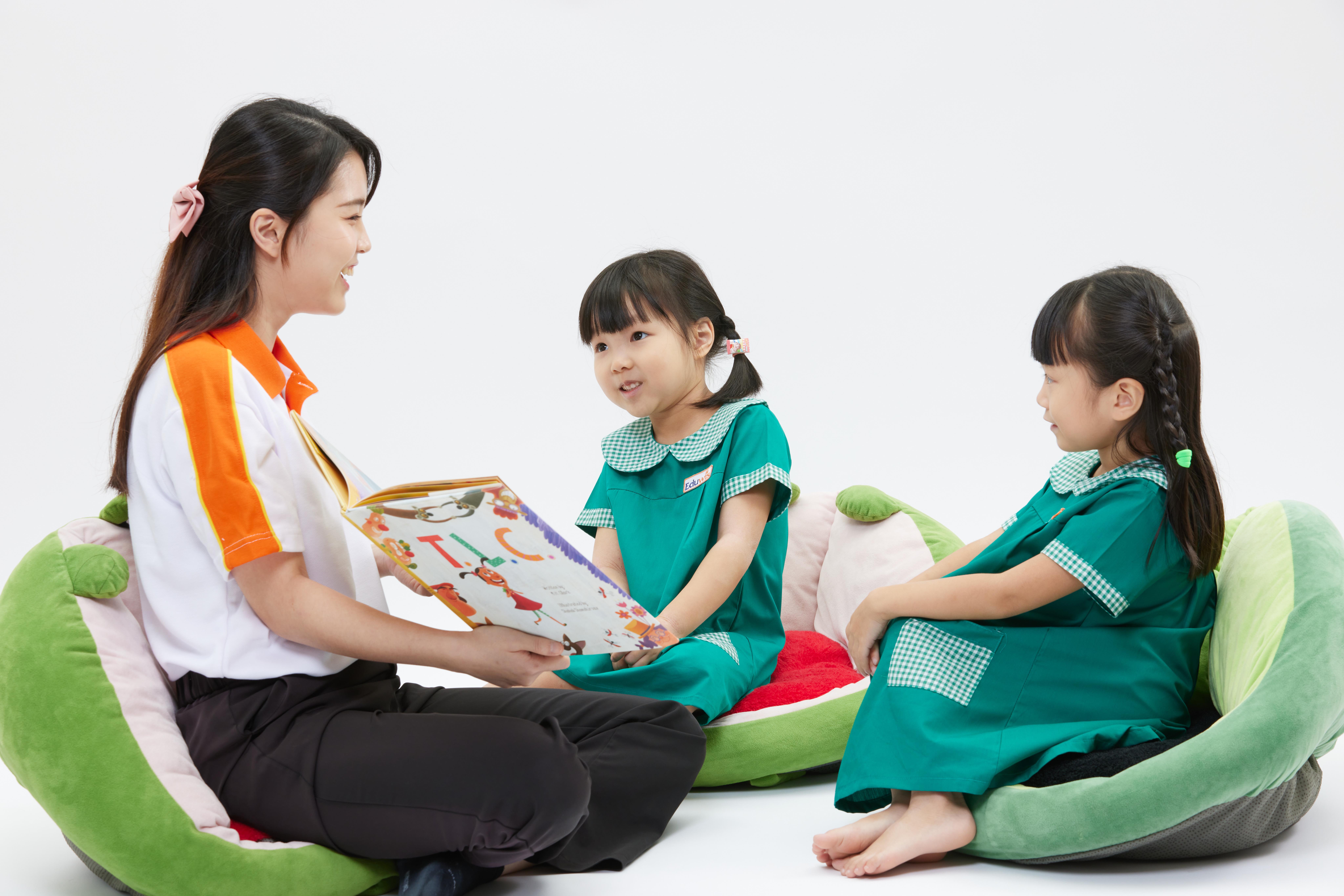 Eduwis program is built upon the integration of the approaches of 8 different educationists. These esteemed figures include Erik Erikson, Friedrich Froebel, Loris Malaguzzi, Maria Montessori, Jean Piaget, Shinichi Suzuki, Lev Vygotsky, and Confucius. The Eduwis program seamlessly combines the most valuable aspects of their theories and approaches to establish a comprehensive educational framework. For instance, we draw from Maria Montessori's approach to teach children living skills and self-regulation. When addressing language and social skills, we employ Lev Vygotsky's approach. Loris Malaguzzi's principles from Reggio Emilia guide our creative learning endeavors. Moreover, the Eduwis program places significant emphasis on psychosocial development, mental development, the cultivation of moral values, musical development, and fostering nature awareness.
Eduwis uses the Thematic Integrated Learning Activities program that crosses over the subject lines with 1600 different learning activities. Thematic integrated learning approach ties all subjects together with an overriding concept. It crosses over subject lines and helps children relate basic academic skills to real world ideas. This approach helps the children to make connections faster and easier during the learning process. Eduwis program pioneered the thematic integrated learning approach as it has been the first preschool program in Malaysia to use the thematic integrated learning approach. Eduwis has also published books and learning materials that are aligned with the themes.
At Eduwis Preschool, every child has the opportunity to learn how to play the piano as an integral part of our program. Piano lessons are structured to ensure that each child receives individual sessions every school day, with a focus on maintaining short durations that align with their attention spans. This approach enables children to learn and practice daily, maximizing their musical development. The benefits of learning the piano extend to all aspects of a child's growth and development. Research has demonstrated that piano lessons positively impact young children's academic performance and contribute to their well-rounded development. Additionally, students are given the opportunity to showcase their musical talents by performing what they have learned during our annual activities. Each year, all our children at Eduwis Preschool participate in a series of annual activities designed to enrich their development across various facets. These activities include storytelling presentations, sports days, and outing trips. One of our primary goals in organizing these events is to foster well-rounded development in children and to provide opportunities for them to showcase their individual talents. These activities are non-academic in nature because we recognize that growth and progress in a child's life cannot be solely measured by academic achievements.
In addition to our Eduwis Program, we have seamlessly integrated several other enrichment programs, including Cambridge English program and Computational Thinking Program. Cambridge English aims to introduce children to the English language in a fun and engaging way, focusing on building their foundational language skills and fostering a love for English learning from an early age. Computational thinking is a problem-solving and thought process that involves breaking down complex problems into smaller, manageable steps that a computer can execute. It's an essential skill in the digital age and can be introduced to children from a young age to foster logical thinking, problem-solving abilities, and a basic understanding of computer science concepts. Eduwis incorporates robots into the learning process as a valuable tool to provide interactive experiences and visual aids that enhance children's understanding.
Eduwis distinguishes itself in Malaysia through its well-rounded and comprehensive program, which encompasses the 8 Educationists' Approach, Thematic Integrated Learning Activities Approach, compulsory piano learning, non-academic annual activities and enrichment programs. Seats at Eduwis Preschool are in high demand, particularly in the Selangor area. Parents are encouraged to secure a spot for their children in advance to avoid disappointment.