Discovering why Eduwis Kindergarten is popular in Johor
Early childhood education is of paramount significance as it shapes young children's living skills, self-regulation, language and social skills, creativity, psychosocial development, mental growth, moral values, musical abilities, and nature awareness. Eduwis Preschool is indeed renowned in Johor, and it consistently maintains full enrolment. Its popularity in Johor can be attributed to its dedicated team of experienced educators, excellent facilities, and a program that not only prepares children for academic success but also instills essential life skills and values. The positive word-of-mouth feedback from parents about Johor kindergarten has been so compelling that it has prompted the expansion of most Eduwis centres within the state.
Eduwis program is built upon the integration of the approaches of 8 different educationists. These esteemed figures include Erik Erikson, Friedrich Froebel, Loris Malaguzzi, Maria Montessori, Jean Piaget, Shinichi Suzuki, Lev Vygotsky, and Confucius. The Eduwis program seamlessly combines the most valuable aspects of their theories and approaches to establish a comprehensive educational framework. Through this, Eduwis is able to provide our children with a holistic education that focuses on every aspect of a child's development.
Well-trained teachers are important in providing an enriching and effective educational experience for children. They bring expertise, dedication, and a passion for teaching that shapes the future of young learners, preparing them for success in both their academic and personal lives. To ensure that our teachers are well-trained, we provide monthly teacher training to support their professional development and growth. The monthly teacher training sessions will take place both in person and via Zoom. We encourage all 400 teachers to actively share their ideas and knowledge, fostering collaborative growth and strength as a collective unit. Consequently, our teachers possess the capability to carry out Eduwis program that promote exploration, critical thinking, and creativity. Additionally, they undergo training to effectively handle emergencies and maintain a safe learning environment, free from potential hazards. As a result, Eduwis parents have the assurance that they can confidently send their children to Eduwis Preschool. Below is a testimonial from parents at Eduwis Astakajaya, Segamat: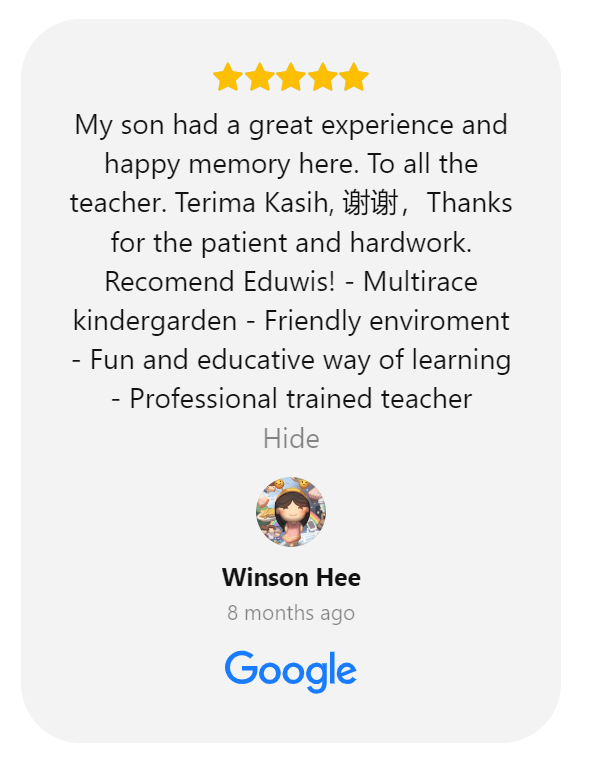 Eduwis uses the Thematic Integrated Learning Activities program that crosses over the subject lines with 1600 different learning activities. Thematic integrated learning approach ties all subjects together with an overriding concept. It crosses over subject lines and helps children relate basic academic skills to real world ideas. This approach helps the children to make connections faster and easier during the learning process. Eduwis program pioneered the thematic integrated learning approach as it has been the first preschool program in Malaysia to use the thematic integrated learning approach. Eduwis has also published books and learning materials that are aligned with the themes. For instance, when children are in science class, we let them plant a tree. In the language class, they learn vocabulary related to plants, and in the art & craft class, they learn how to paint leaves!
Eduwis also emphasizes the importance of each learning corner for their exploration and self learning. At our Johor Kindergarten, we offer a rich and purposeful environment, including music corner, reading corner, puppet corner, science and math corner, garden area, home corner and outdoor area. Eduwis Johor Kindergarten places a high priority on safety measures and cleanliness standards to ensure the well-being and health of all children under our care. The centres are designed with security in mind. We have controlled access points to prevent unauthorized entry. We maintain a clean and hygienic environment by regularly cleaning and sanitizing classrooms, learning corners, and other materials. Furthermore, we provide balanced and nutritious meals, taking into consideration dietary guidelines and individual needs. At Johor Kindergarten, the safety, health, and well-being of every child are of utmost importance.
Parents play a vital and collaborative role in the Eduwis community. They are seen as active partners in their child's education and development journey. Parents are encouraged to engage in open communication with teachers, providing valuable insights into their child's needs, strengths, and areas of growth. They are invited to participate in school events such as concert, sports day, outing trip, singing and storytelling presentations, etc. It fosters a sense of involvement in their child's education. Through this partnership, parents and Eduwis work together to create a supportive and nurturing environment that promotes a holistic and well-rounded educational experience for each child, ensuring their success and well-being.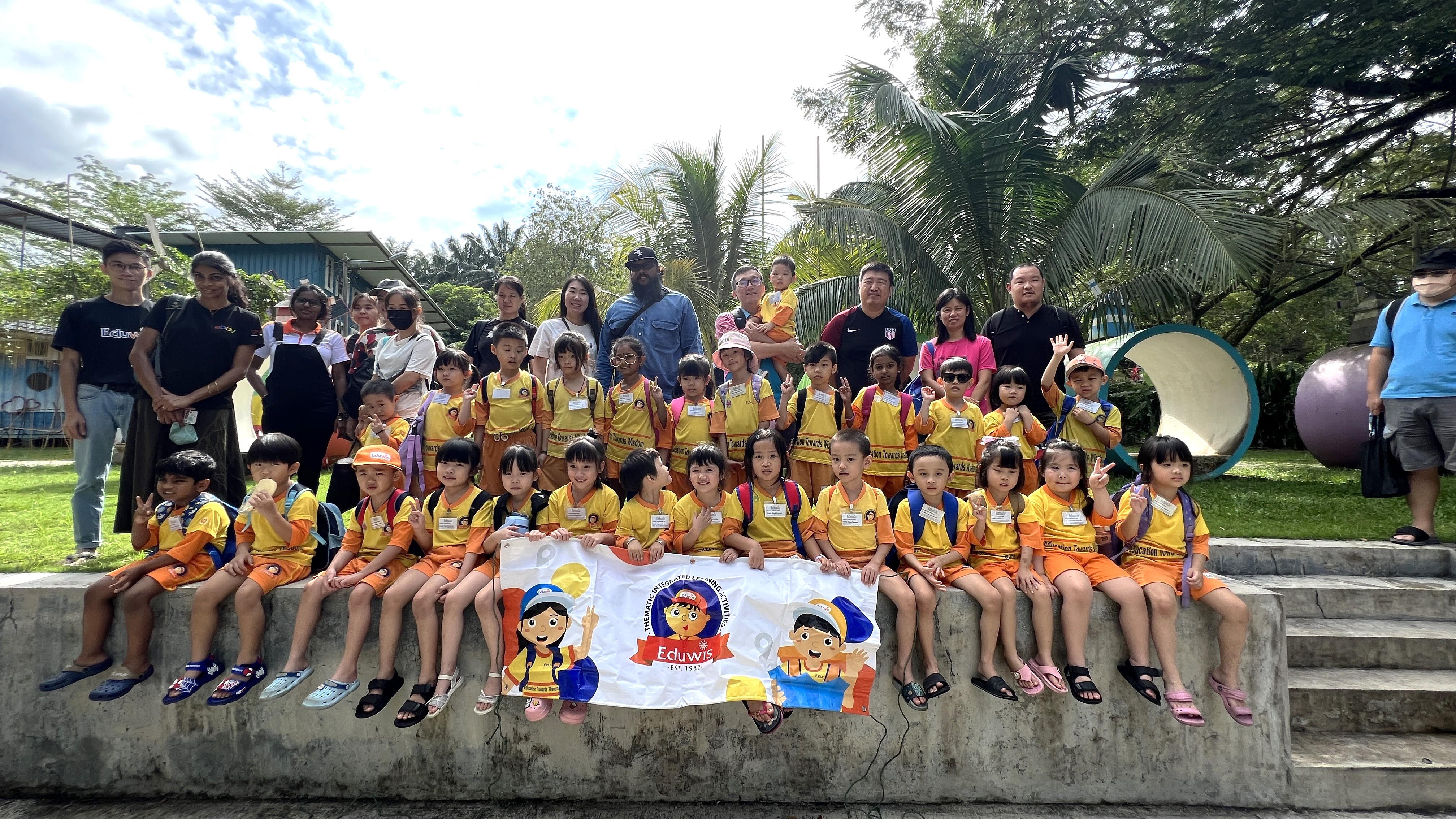 Parents' testimonials from Eduwis kindergarten in Johor: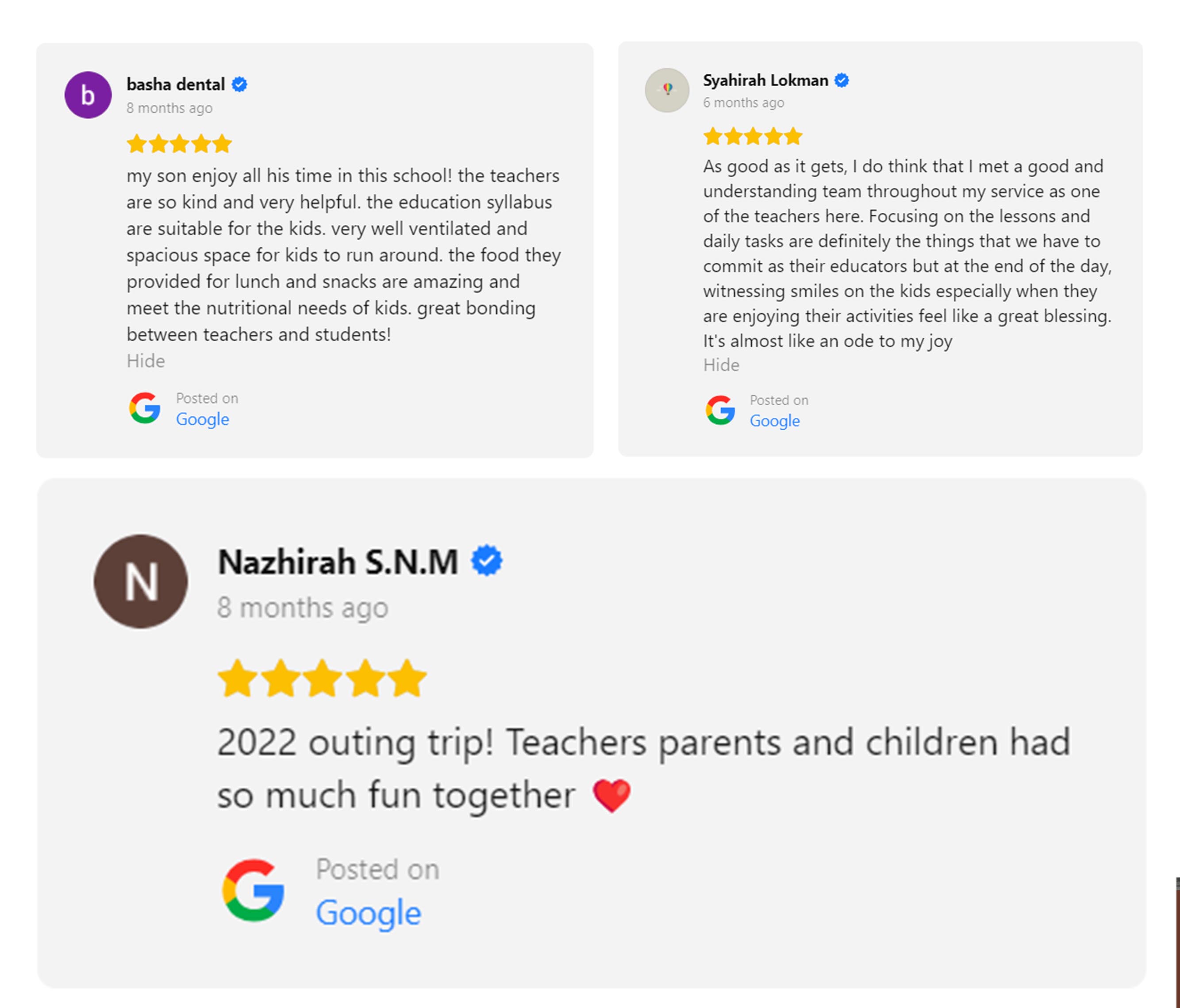 With its positive reputation in Johor, Eduwis Kindergarten has become a trusted choice for parents seeking an excellent educational foundation for their children. Find out our centre location in Johor and secure a spot for your child or schedule a school tour!